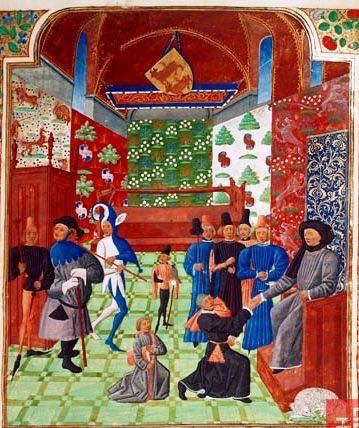 The shire of Corvaria extends an invitation to all good gentles to join us in the merriment of our All Fools event. We will have a silly heavy combat tournament where fun and foolishness will be favored over martial prowess. Come vie to become either Corvaria's Bardic champion or our Arts & Sciences champion. Then join us in our potluck feast and open bardic performances.
Please bring your favorite food dish to share with us during the feast. Fate will decide who brings what – very foolish indeed!
Site fees are $15 ( $5 discount for SCA members) those aged 17 and under are no charge.
We will be using the banquet room at The American Legion Post #45.
The site address is: 52532 Drafter La Pine, OR 97739
Doors open at 10 AM and close at 6 PM
Please contact the event steward Tryggr Tyresson 541-408-2242 if you have any queries.
Site Info:
Name: American Legion Post
52532 Drafter
La Pine, OR 97739
Directions to Site:
Last Event's Directions:
Find your best route to HWY 97 and head to La Pine, OR.
Head East on Rosland Rd between Cascade RV-wash and Gordy's Truck stop. Follow Rosland and take the first left which is Drafter Rd. The American Legion hall is on the right.